La Dolce Vita
What's not to like about Dolce Vita-era Italian archtop guitars? Rhetorical question! These guitars breathe character and Italian tradition, and, perhaps in the spirit of the "La Dolce Vita" movie's main character Marcello Rubini (
Marcello Mastroianni

), there's always room for one more.
At least, that's more or less what I thought when I saw a Catania Carmelo Era IV for sale on a Dutch subsidiary of eBay. Normally, I don't browse through classified advertising sites, but this time was an exception. After having read our earlier story on the Era I, an oversees website visitor had contacted me, asking whether I could try and find him such a Catania Carmelo archtop. Now that seemed an interesting challenge to me, particularly given the tight budget that he mentioned. Mind you, the transaction would also require costly intercontinental shipping! Nevertheless, I agreed to give it a try.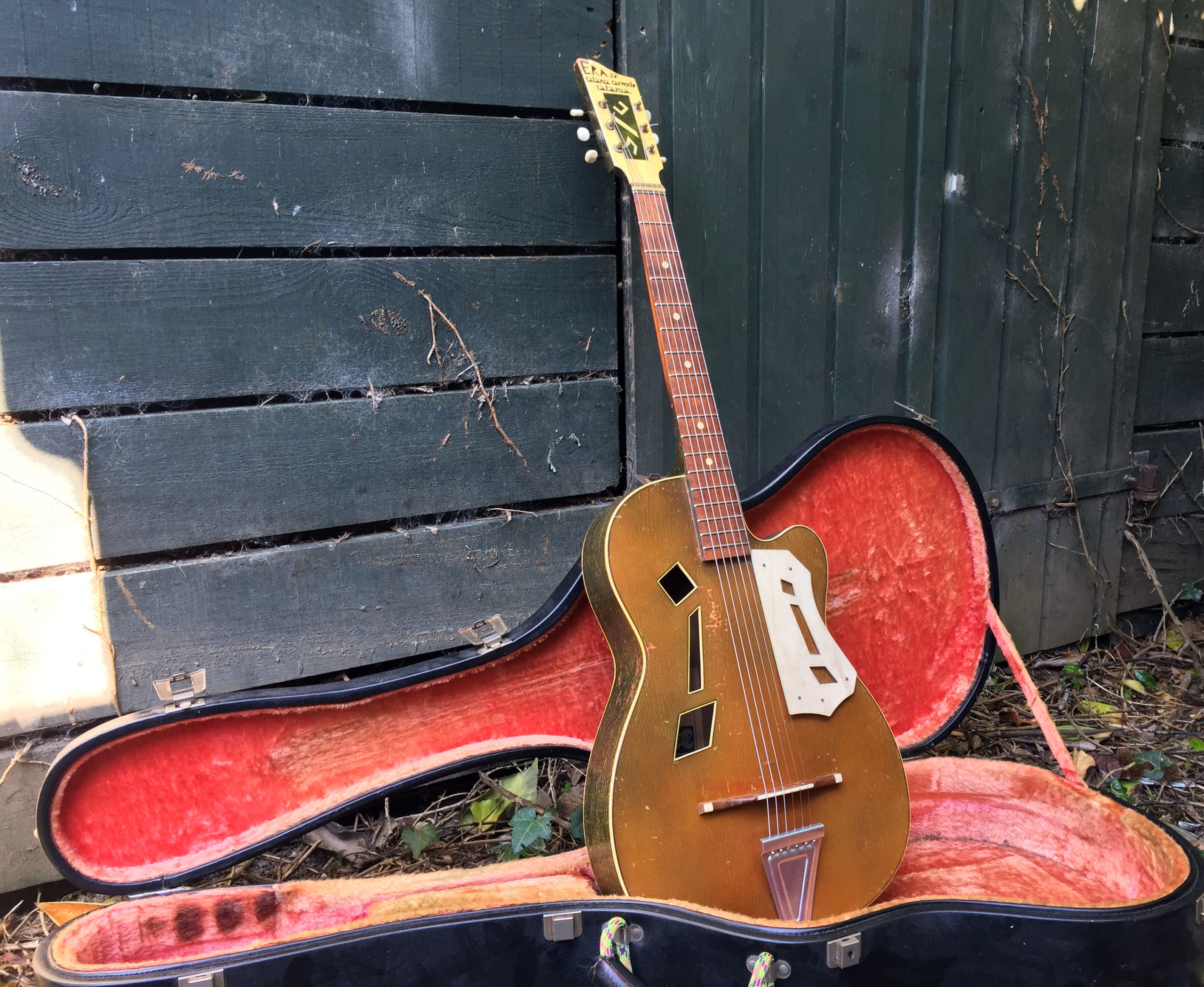 Family Reunion
Coincidence had it that, already at first glance, I spotted a suitable and reasonably priced Era IV on the old interwebs. After a couple of days of sporadic negotiations, the seller and I struck a deal, under the condition that the archtop would have no major flaws. On a foggy winter's night, I then embarked for a one-and-a-half-hour drive to the East of the country to pick it up. A crazy thing to do perhaps, as in the mean time I had come to realize that selling and shipping for the agreed maximum price would still yield me a financial loss! I had already invested half a tank of gasoline too. However, this trip was not strictly business, I was also genuinely interested in getting to meet a twin of my Era I – they're both from 1962.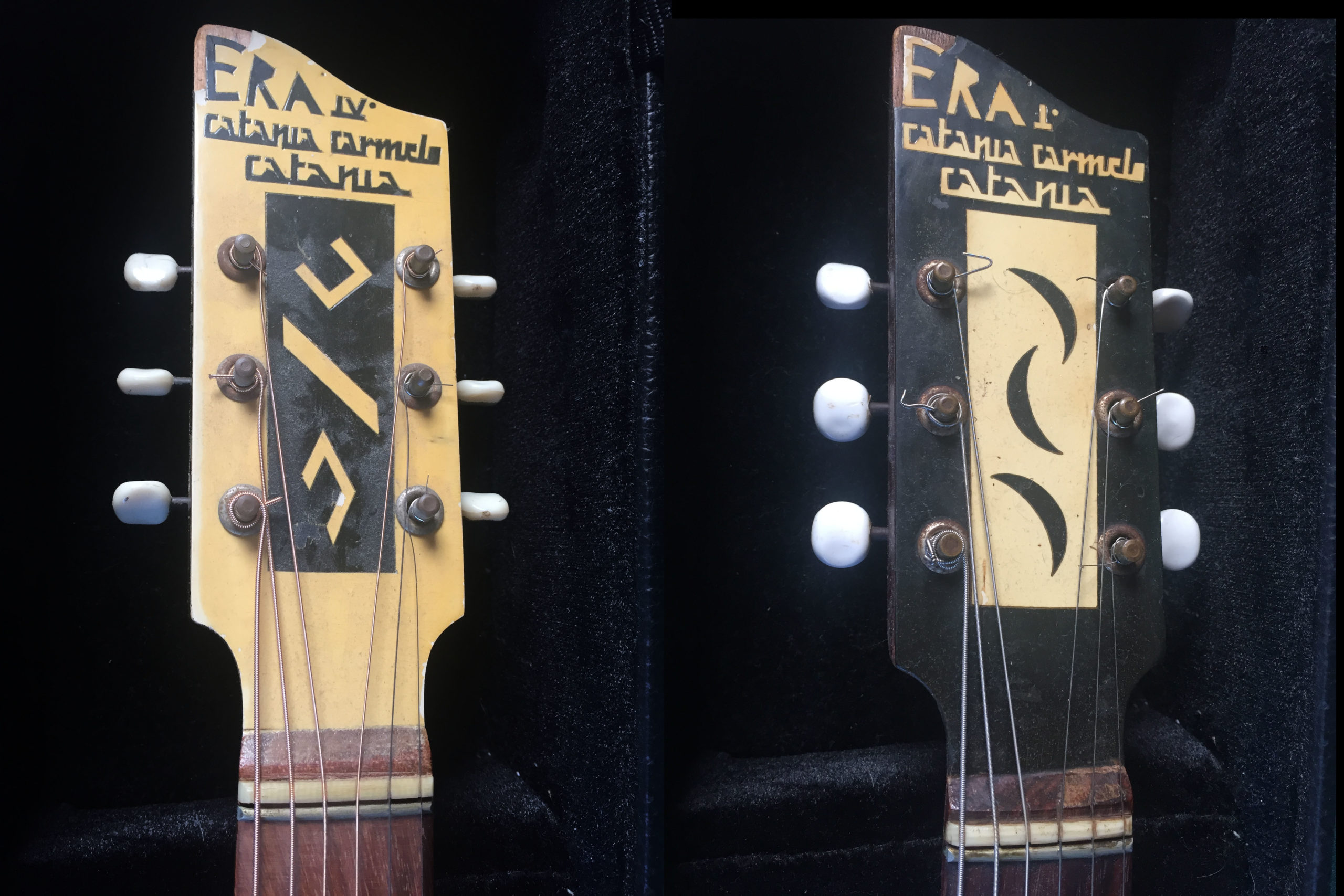 Neck and Neck
Two cups of coffee and a few musical stories later, I was on my way back home, together with my coveted Italian passenger. Pretty cool! Surprising to see that the Era IV was similar to the Era I, except for some variations in styling – were these designs art-deco inspired? The Era IV has diamond-shaped f-holes and geometric headstock decorations, whereas the Era I sports moon-like shapes throughout. Which of these non-identical twins would have been the most expensive, back in the day? Difficult to tell. The Era IV seems to have a more complex paint job, sunburst-like on the sides and on the back of the neck. The original color of its top may have faded, but presently it looks a lot like a gold-top. Was it once green? Also, the diamond-shaped f-holes of the Era IV seem more difficult to craft than the D-holes, but that's all just speculation.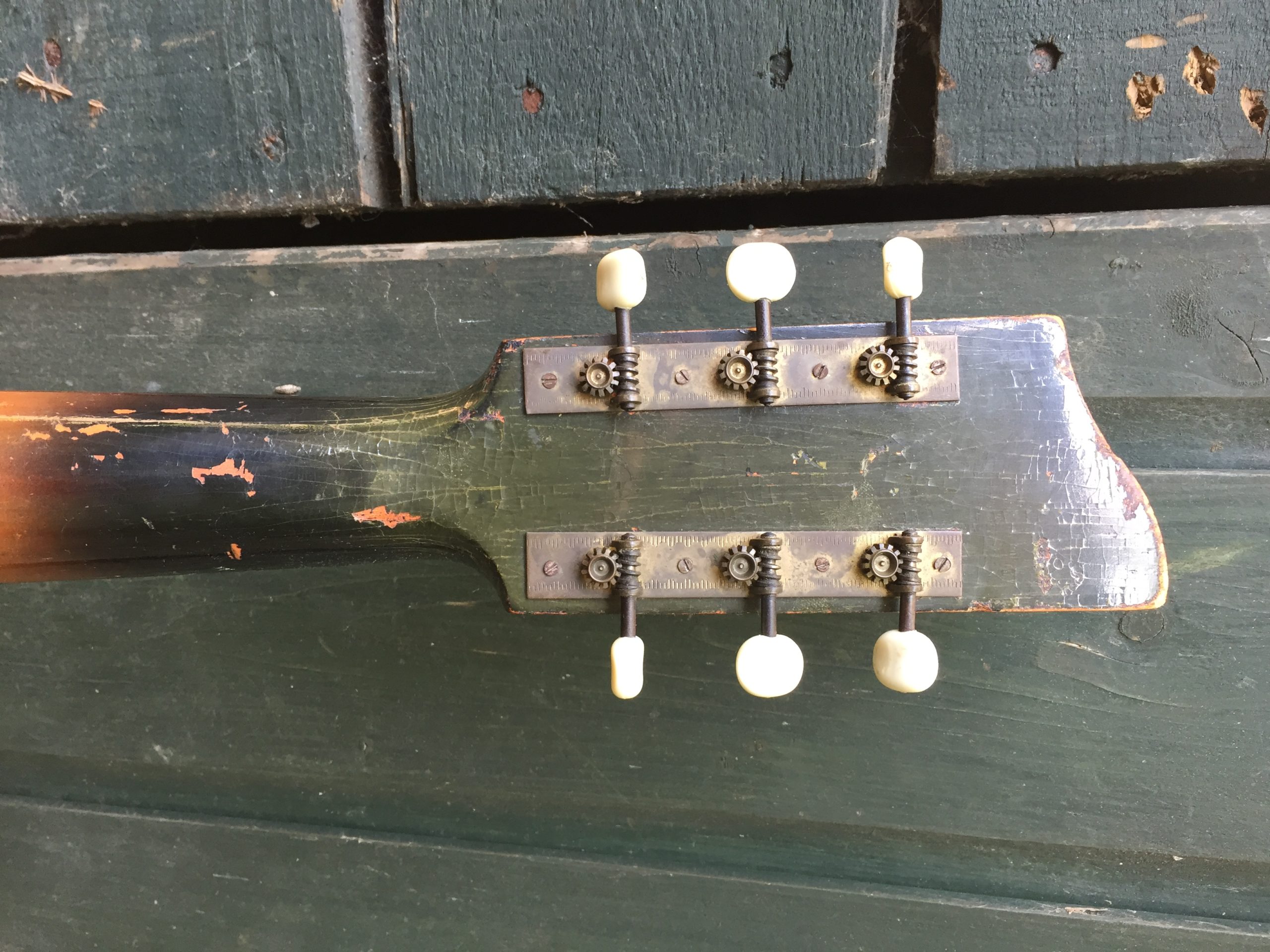 The Test of Time
How have these guitars stood the test of time? The Era IV's finish has become quite crackled, to begin with. Probably it has been stored for years in a place with frequent and large temperature fluctuations (don't do that to your guitar!) Also, it has a very high action, but that is not necessarily a problem. The action can be lowered by sanding the wooden bridge down, until the desired string height is attained. Interestingly, the Era I had the perfect playing action all along, but not for a very good reason. Sometime during its past, someone must have put way too heavy strings on it (don't do that either!), which has caused the top to recess… inadvertently resulting in the perfect string height!
Il Futuro?
So, how does the future look for this Era IV? Well, as you can understand, that intercontinental transaction is not going to happen for now – it is economically just not feasible. However, within Europe, I reckon that it should be possible to strike a deal that buyer and seller are both happy with. Therefore, the guitar will soon be for sale on this website in its current, original state. And if it stays around for long enough, I might decide to sand down that bridge myself… and perhaps even try to play some Nino Rota music on it. It's a thing of beauty anyway!
Update – July 1st, 2020
Again, this story has taken an unexpected turn: the Era IV will soon be heading stateside – an intercontinental trip after all! In exchange, a vintage tubeamp from the US is headed for our European headquarters at the moment. Soon more about that one!