The guitar shop
It was love at first sight. A romantic weekend in one of my favorite cities in the North of the Netherlands, strolling through little downtown streets with no other aim than just casually strolling through them. Then, suddenly… a little guitar shop that I had never noticed before caught my attention! Interesting… but this weekend was not going to be about guitars.
Nevertheless, I let myself be persuaded that it wouldn't be that bad to take a brief look inside. After climbing a short stairway, an old door had to be pushed hard to enter the shop and, stepping onto a squeaking wooden floor, I could see that the interior was probably just as old as the building itself and lacked maintenance in a good way. In a corner, the owner was apparently just giving some guitar playing advice to a couple of youngsters. Also, I could see that the shop probably doubled as an art gallery. Not wanting to disturb anybody, I routinely started scanning the guitars that were hanging on the wall. Nothing special really, the selection was mostly comprised of new or newish mass-produced models, and a bit strat-heavy. One little guitar however immediately caught my attention. It looked vintage, but I couldn't really identify it; did it look like a gypsy instrument?
The guitar
An interesting guitar for sure, but by now I considered it high time to go back strolling down those little downtown streets. Slowly making our way out, last minute I decided to ask the owner about the guitar. Yes, it was clearly a guitar that he personally liked and maybe didn't necessarily want to see leaving the shop but yes, of course I could try it.
Now, that was a surprise. The humble thing looked a bit scruffy and might as well have been an elderly low-quality budget guitar, suitable only for decorative purposes… but it played very well! First of all, it was well-tuned. Secondly, it intonated well, also higher up the neck. Thirdly, it had quite a low action. And fourthly, I started to realize that this was in fact a little archtop guitar and that I loved its sound. Still having no clue about brand or origin on the instrument (yes, I could read the brand name on the headstock of course, but it didn't ring any bells), I asked the shop owner for a price indication. Hmm, not too expensive… but alas, as a modest working class hero, you normally don't just buy a guitar when you first see it! Once again, I was reminded that I could, for once, simply buy it of course.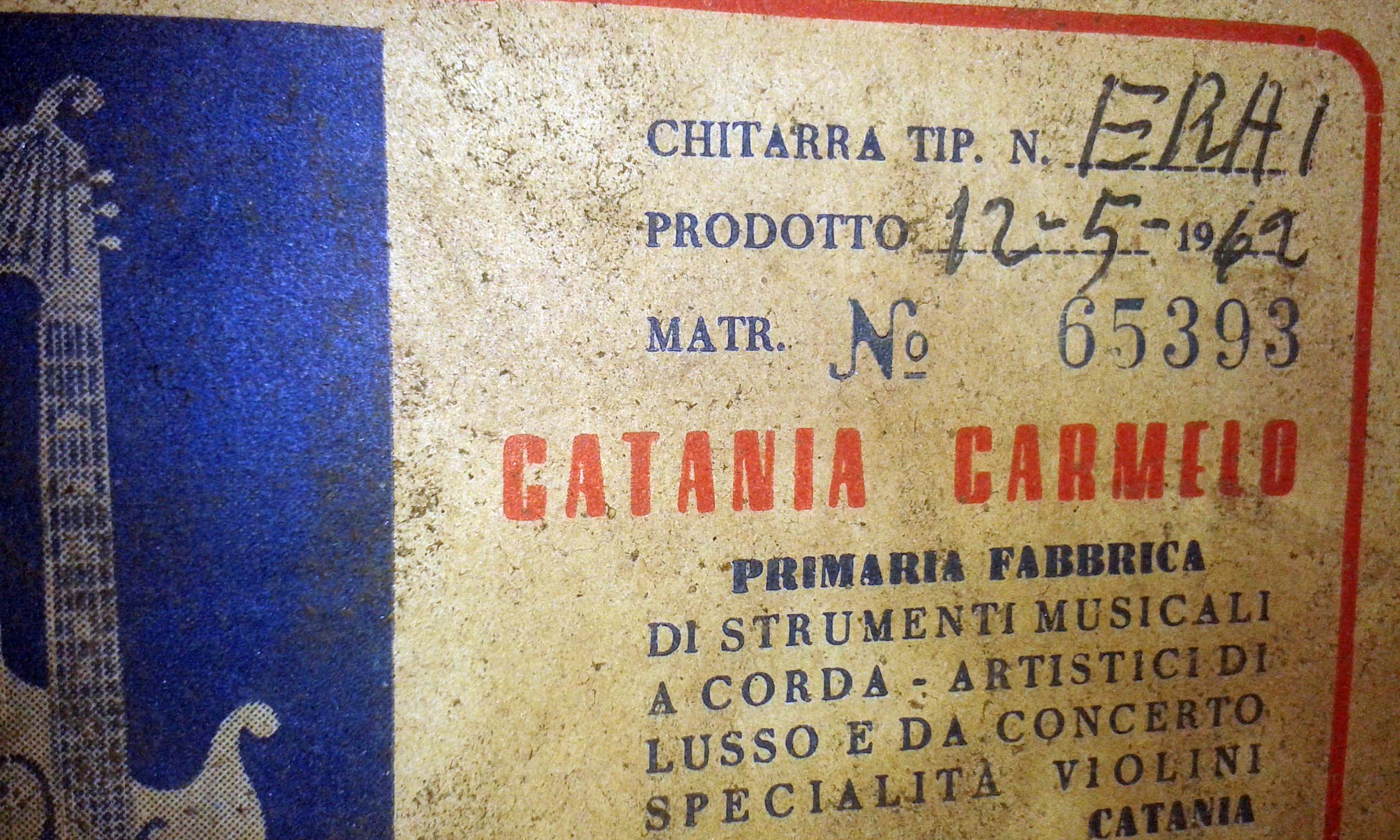 Carmelo Catania
By now, you can probably see where this is going: after some negotiations, I ended up buying the instrument. As soon as I had time, I took a closer look at the label that could be seen through the f-holes (in this case, they're d-holes, actually) and looked for the brand name Carmelo Catania on Google; based on the information on the label, our guitar was a 1962 Era I model. Catania of course sounds like Sicily, Italy. Indeed, from www.fetishguitars.com, a fantastic resource, I learned that Carmelo Catania was an Italian luthier, born in 1908 in Catania. Carmelo had built his first instrument already at age 17, then learned the tricks of the trade in Naples and at an age of 20 started his own successful business, Primaria Fabbrica di strumenti musicali a corda Carmelo Catania in Sicily. During its heyday, this had become a factory churning out more than 10,000 instruments annually. Among these were mandolins, archtops, such as our Era I (also checkout our story on the Era IV, which is presently for sale), basses and electric guitars. Many of these had very artistic designs and decorations, and sometimes the instruments themselves were also quite exotic, for instance the so-called 'harp guitar'.
A bit of TLC
But back to our Era I. Thanks to its excellent playability, it did not need much work. Back home, I first carefully cleaned the body and headstock with Dunlop Formula 65. This product is almost like a magic potion, given the difference that applying it usually makes. It is very mild and hence did not affect our old lacquer. In fact, I saw that the lacquer was full of tiny little cracks, resulting from 55 years of fluctuating humidity and temperature conditions, with the wood shrinking and expanding correspondingly. However, we feel that these cracks add to the beauty and character of the guitar, as with an old painting – in the Netherlands, we use the French word 'craquelé' when referring to those little cracks. Secondly, we cleaned the fretboard with Formula 65 lemon oil. In doing that, we noticed that the neck was in fact quite clean and, as the frets also showed very little wear, concluded that the guitar probably had never been played a lot. After putting a little drop of oil on the open gear tuners and restringing with a set of 11s, it was time to start playing! As with archtops in general, the voice of the guitar lends itself very well for melodic jazz and gypsy/manouche-style playing. It emphasizes the upper and middle frequencies and, due to its archtop construction and relatively small body, had a sound that really nicely jumped off the guitar's front.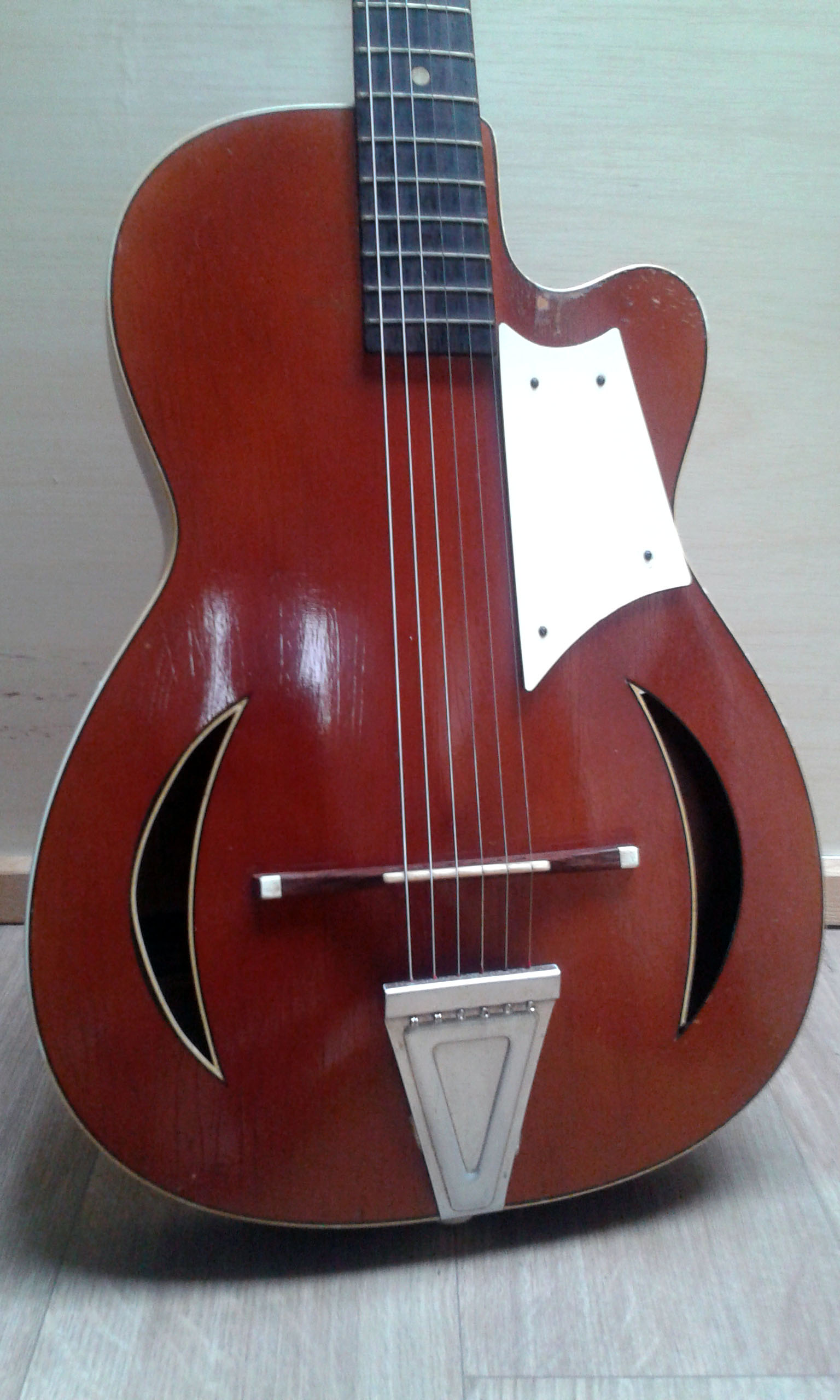 A quest for more volume
Later on, I played the Era I in a small live setting without amplification, but it turned out that it really had insufficient volume for that. To let the guitar live up to its full potential, it would need to be amplified! Not wanting to cut into the guitars wooden top, I started looking for a 'vintage correct way' to amplify it which would not require major surgery. After carefully weighing several options, where the very limited space between the pickguard and the guitars top also played a practical role, I arrived at the DeArmond Rhythm Chief reissue (DeArmond is now under the Guild umbrella, which is part of Fender). According to a blog on the Rowe DeArmond pickup and DeArmond inventions, many 1950s guitar manufacturers, including the Italian Eko and Galanti, had used DeArmond floating pickups on their products. What's more, Kenny Burrell had allegedly favored the DeArmond Rhythm Chief 1100 on his d'Angelico New Yorker archtop (which was sold for 75,000 US$…), and Muddy Waters used them too (there's one on his guitar in picture below together with his wife, taken by Art Shay in 1951). Add to that the stunning looks of the Rhythm Chief and the choice was easy.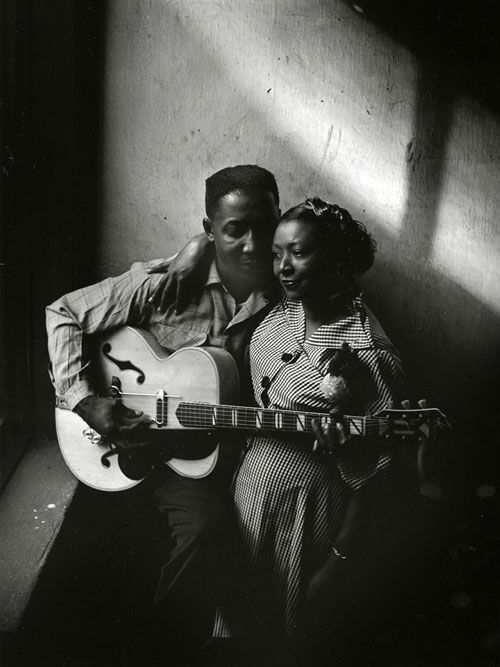 Mounting a DeArmond Rhythm Chief
A number of small modifications was necessary in order to mount the pickup to our Carmelo Catania. First of all, an output jack was needed. The best way to do this with minimal modifications to an acoustic guitar is to replace the endpin with an endpin jack, generally; this may then also serve to attach a guitar strap.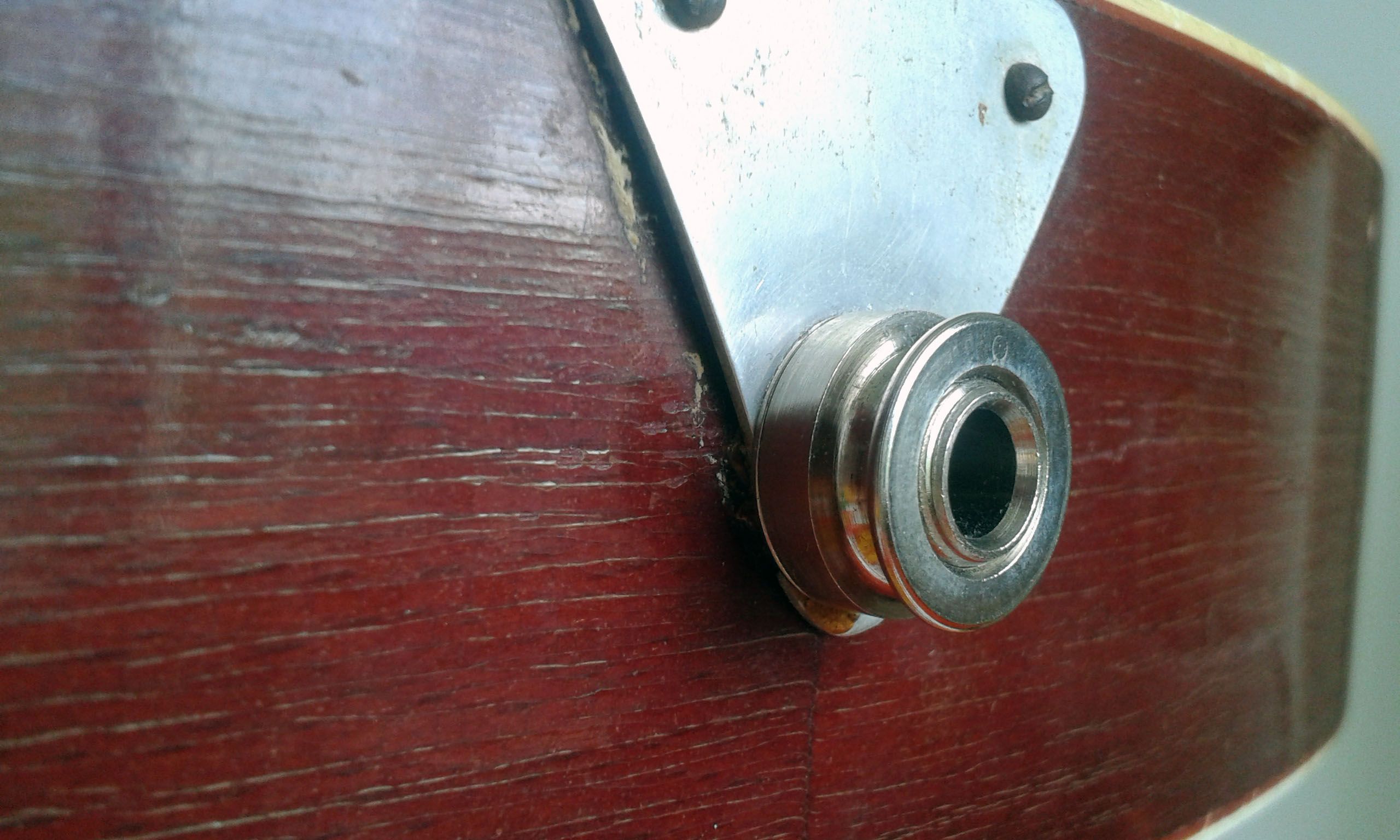 Furthermore, a section of the pickguard would need to be cut in order to create sufficient room for the Rhythm Chief pickup. However, you don't just start cutting sections out of a 55 year old pickguard! So, we bought some new vintage-white three-ply pickguard material and cut out a second identical pickguard, now leaving precisely enough room for the new pickup. Wanting to keep modifications to a minimum, it seemed best to refrain from adding tone and volume controls… there was simply no room for it!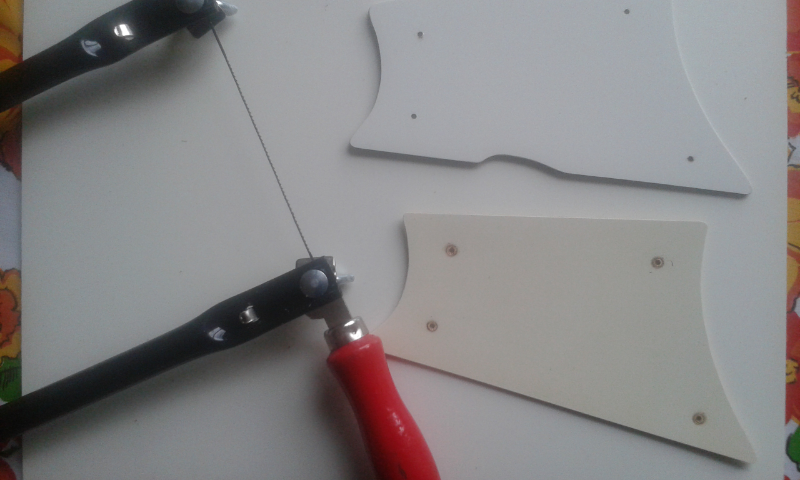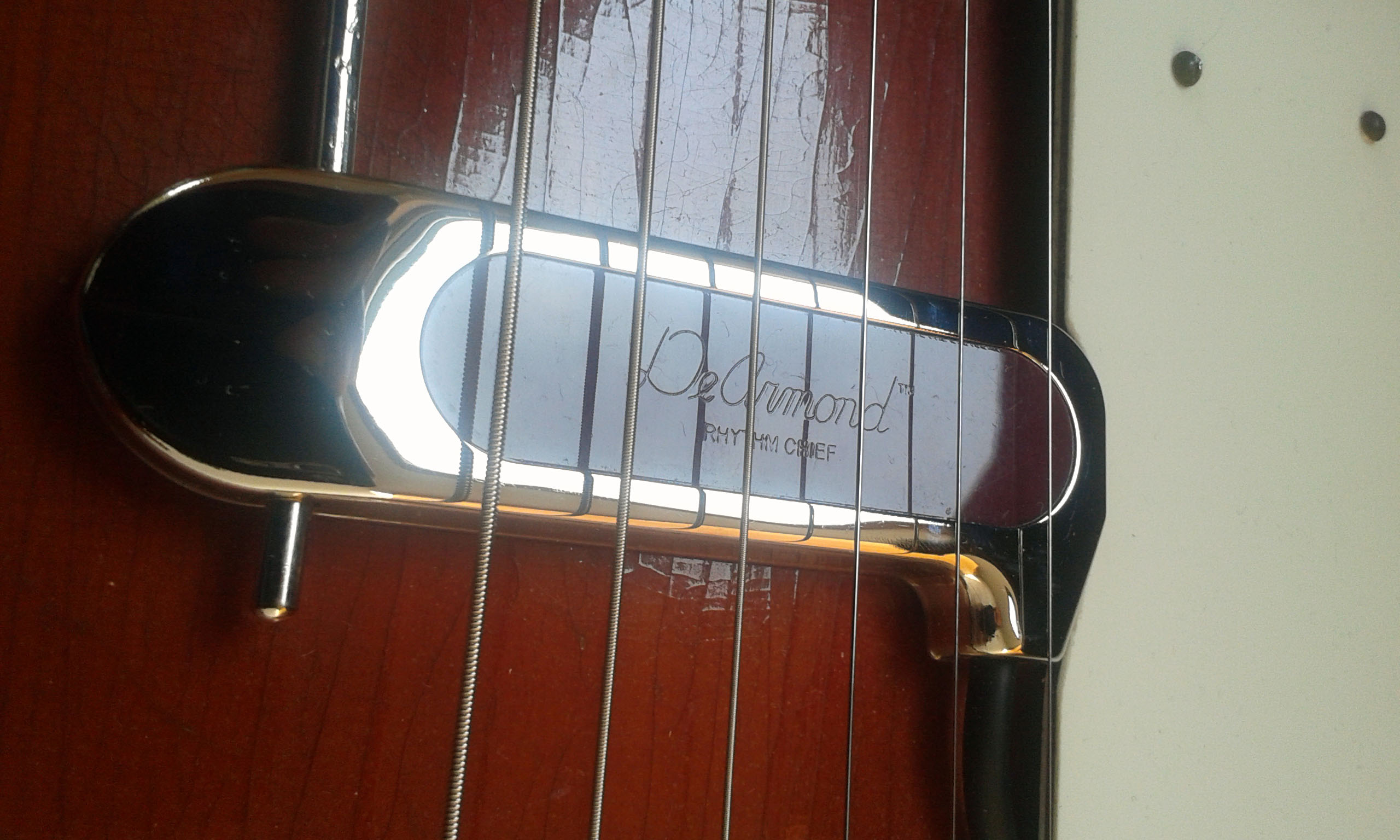 With the work done, it was time to try out the instrument again and, for the first time ever, listen to its electric voice! With the guitar plugged into a ~2007 Peavey Delta Blues tube amp (still manufactured in Meridian, Mississippi), the result was stunning! Great vintage jazz sound, with articulate highs and mids and, due the limited sustain from the small body, a bouncy and boomy bass! In fact, the guitar is such a lively little instrument that playing an electric afterwards is always a comparatively dull experience. Hence, we dare to conclude that electrification has turned this vintage instrument into a very practical instrument for jazz, blues and gypsy music, with lots of character and great vintage looks.