After more than a decade of loyal service, I have just sold my old Peavey Delta Blues 115 amp on to a young and enthusiastic new owner. An excellent occasion to pay tribute to this dependable long-time workhorse, pink a tear, and review its performance!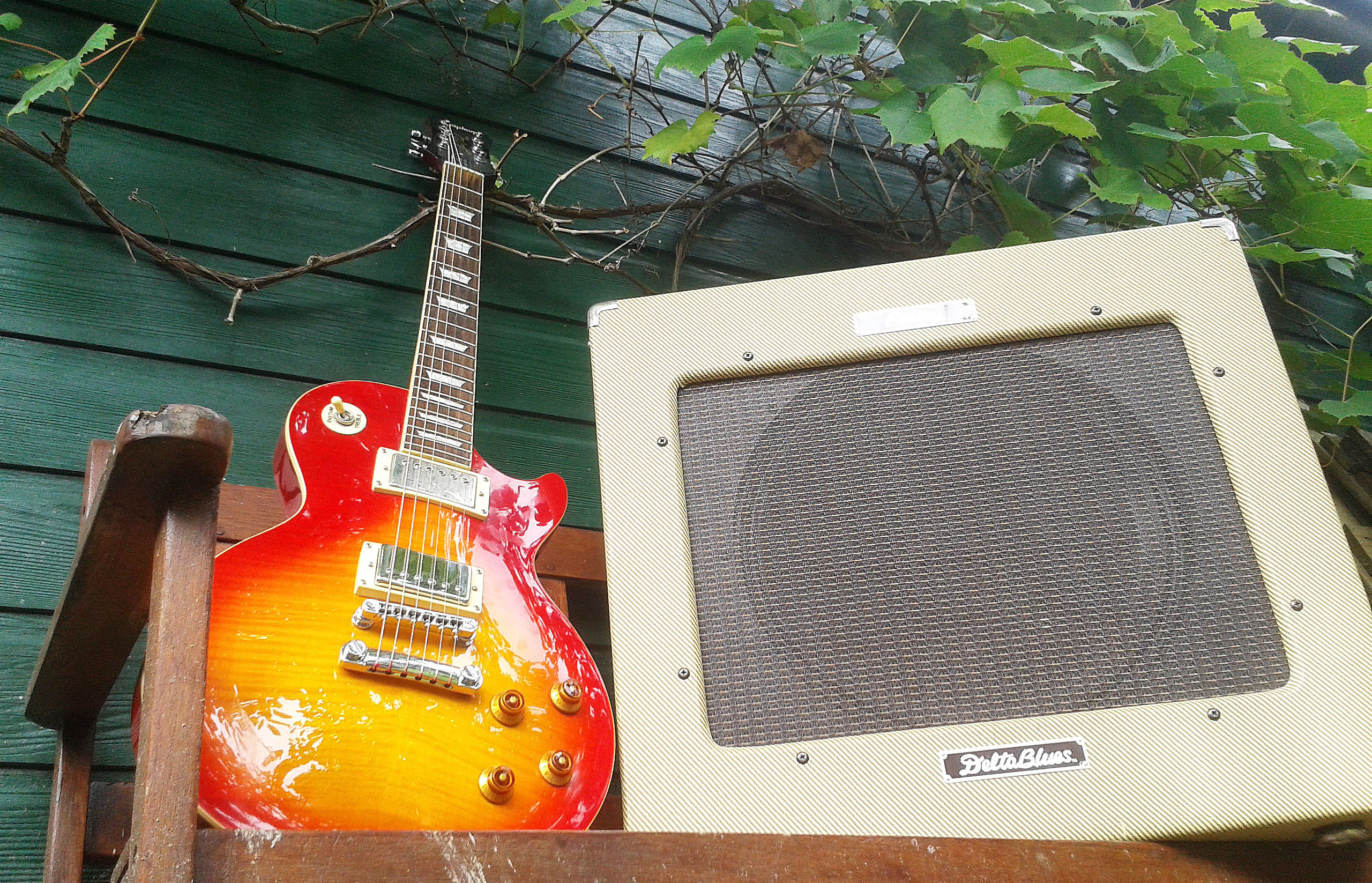 I was actually just trying to impress my girlfriend, that first time I played guitar through a Delta Blues. On a wintery Thursday evening, we strolled past a music store in a nearby city and I proposed her to have a look inside. In the blink of an eye, I was standing next to this beautiful Peavey amp with an electric guitar in my hands. Dialed in an overdriven tone and played some loud, Hendrix-inspired blues. Wow! That thing really rocked! At least one person was impressed ?
So much for the Delta Blues. Soon we moved oversees and it didn't seem to make much sense to ship a 25 kg guitar tube amplifier to the humid tropics. I then more or less forgot about it… until we came back to the Netherlands and I still needed a more powerful, better sounding amplifier. One day, I drove to that same music store again, extensively tried a Delta Blues and then brought it home for around 700 Euro. Great deal!
After putting the amplifier extensively through its paces, I swapped the original Sovtek output tubes for a quartet of new JJ Electronic EL84s. A fantastic improvement; lots of detailed highs were suddenly part of the sonic palette! A nasty case of tube rattle was also instantly cured… somehow the Sovteks seemed already worn out at the time of buying. Perhaps I actually bought a showroom model, or even a second-hand one? Anyway, with the new JJ EL84 tubes, the amp lived up to my expectations and I would get to know it much better in the years to follow.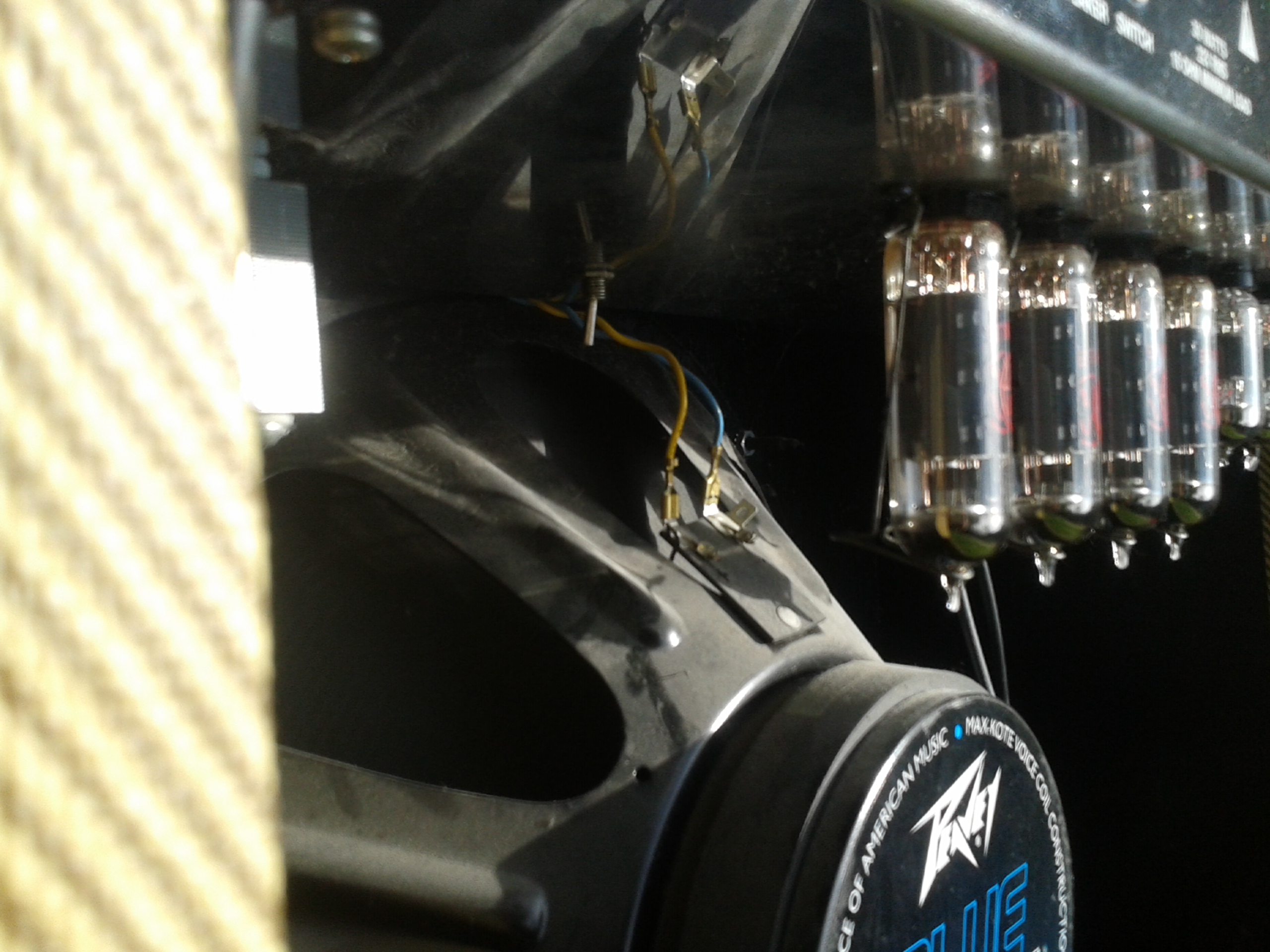 Peavey's 15 inch "Blue Marvel" speaker, with in the background a quartet of JJ Electronic EL84 power tubes. Also visible is a small toggle switch that I added to eliminate negative feedback, optionally.
The Delta Blues here was probably made around 2006/7 in the USA, so this review mainly concerns the older version(s). People generally love its looks, and part of the credits goes to the designers at… Fender in Fullerton, California in the early 1950s! The amp was likely inspired on the old tweed 'TV front' amplifiers (resembling the front of an old TV, hence the name) that Fender produced back then, such as the early 1950s Deluxe, Princeton and Pro Amp models. Particularly the tweed Pro-Amp may have served as an example, with a similar power rating as the Peavey (somewhere between 25-40 Watts – the Delta Blues has 30 Watts) and a 15'' speaker too. It is probably most famous from Buddy Holly's rhythm guitar sound. There are also plenty of differences between the two however. For instance, the Peavey has a solid-state rectifier, whereas the Pro Amp had a 5U4 tube. Also, the Peavey derives its power from 4x EL84 output tubes, whilst the Fender relied on 2x 5881/6L6. The modern Peavy packs many more features than the 1950s Fender Pro Amp, which just had two volume controls and a single tone knob:
Foot-switchable Normal/Lead channel with shared Bass, Mid & Treble controls;

Separate controls for gain ('Pre') and volume ('Post') for the Lead channel;

On board foot-switchable tremolo with Speed and Intensity controls;

On board spring reverb;

On-board buffered effects loop;

'Mid-Boost' switch.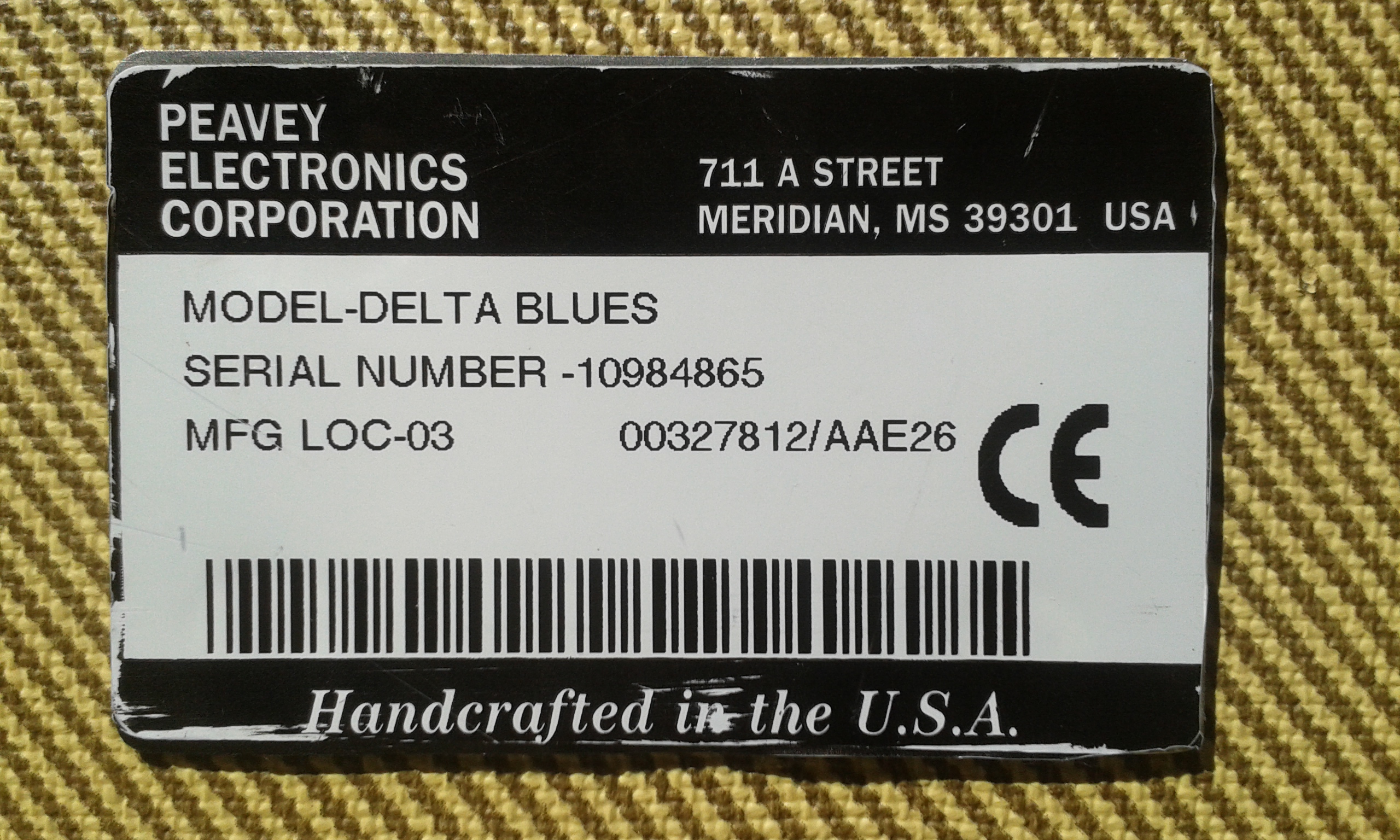 What better place to manufacture an amplifier called "Delta Blues" than Mississippi, USA?
In short, the amp has pretty much everything you could wish for. To describe its sound, the first words that come to my mind are: smooth and woody… much like a good whisky. When the amp is thoroughly warmed up and played loud, it feels like the greased lightning on steroids. Cask strength! The very heavy quality cabinet and 15″ (16 Ohms) Peavey Blue Marvel speaker probably contribute significantly to the woody character. I recently compared that speaker with an Eminence 1518 Legend (15 inch, 8 Ohms), by connecting both to an amp with switchable speaker impedance (the older Peavey didn't have it but the new version has – good thinking Peavey!). I found that the Blue Marvel offers beautiful twangy trebles and a huge bass sound compared to the Eminence, which has slightly less treble, but stronger mids and a tighter bass. Then on the cabinet: initially this blog mentioned that the older Delta Blues cabinets were made out of solid pinewood. One observant DB owner and reader of this blog suspected something different however, and enquired with Peavey. "The top, bottom and back are made of novaply, the left and right sides are Russian birch plywood", they replied (thanks LB and Peavey!). Novaply, by the way, is a very heavy and dense particle board, generally used to build countertops etc. It was the brand name of a now demolished particle board mill in Minnesota.
Back to the Delta Blues. The great thing about its sound, which can partially be attributed to the stock speaker (and partially to the use of negative feedback), is thus that it has more than enough sparkle on tap – important for humbucker players like myself. On the other hand, the bass really needs to be toned down in band situations. There is so much of it that it easily gets in the way of the bass or keyboard player (think Jimi Hendrix's huge sound on Voodoo Chile – the blues version – from the Electric Ladyland album), so consider it wise to dial the bass control all the way back to 2, 1, or 0! For solo fingerstyle performances however, it's great to have all that bass available, potentially.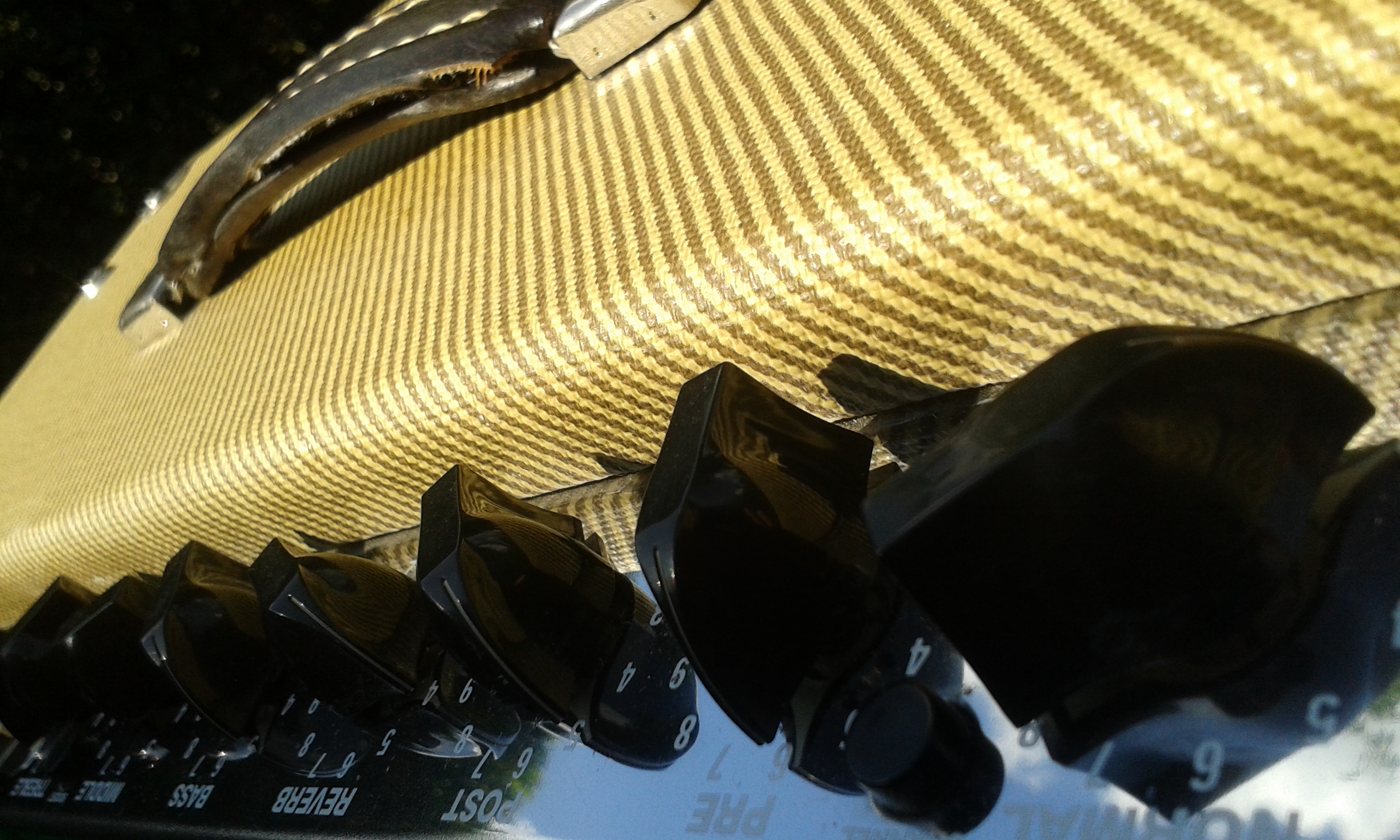 Control panel, with from right to left: 'Normal' Volume, Mid Boost Switch, 'Pre' Volume (gain for lead channel), 'Post' Volume (for lead channel), Reverb, Bass, Middle, Treble. The good news is that all dials can go up to 12!
The (older) Delta Blues amplifiers may have plenty of treble and bass, but their mids are slightly scooped. Peavey must have been aware of this when they decided to add a 'mid-boost' switch to the amp. Engaging it mainly results in a volume boost, with the mids still remaining a bit 'spongy' and hardly getting more 'bite' or 'bark'. Are these typical problems of humbucker players and is the Delta Blues perhaps better suited to single coil, strat-style guitars? Fortunately, the relative absence of strong mids in the sound spectrum was not that much of an issue to me, as I mostly used the Delta Blues for gigging with a big band and a jazz combo, playing an Epiphone Les Paul with a Seth Lover neck humbucker. The amp's smooth and woody, acoustic-like sound really lent itself well for jazz-comping and blended very well with the big band sound. You really don't need barking mids there! When playing at full throttle, with the volume turned up, the Delta Blues started growling nicely. For soloing, I mostly relied on a Tube Screamer-style stompbox into the normal channel for the desired boost in both volume and mids. The Lead channel also lacked some mids in my opinion, as it shares its EQ with the normal channel.

Playing my Les Paul through the Delta Blues in a big band setting, probably around 2009.
An Accutronics tank with four long springs makes the built-in reverb sound great and it is one of the features that I am going to miss. The reverb seems particularly suitable for more subtle effects, which are easy to dial in – I never felt the need to go beyond a level of 4 or 5, on a scale of 12. The tremolo is also very decent, but engaging it with the footswitch results in a substantial volume reduction, which is why I hardly ever used it. Maybe this issue was resolved by Peavey in the recently revamped version however.
All in all, the older version of the Peavey Delta Blues is a lovable and reliable guitar amp and great, great value for the money, assuming that you can get a second-hand one for some 450 Euros or US dollars. It has stunning retro looks and warm-sounding vintage tube technology; welcome changes in a landscape that seems more and more dominated by black and grey-colored amplifiers and digital technology. The Delta Blues is built like a tank, which also means that it is fairly heavy however, at some 22.5 kgs. Not that easy to carry it up and down the stairs! The amp sounds warm and woody and packs a nice growl. It may lend itself better for playing single coil guitars than humbuckers, as the middle part of the sonic spectrum is a bit under-represented, lacking some 'bark'. Minor setbacks of the older version of the Delta Blues are the absence of speaker impedance switching, a standby switch and a tube-guard, a substantial volume reduction when the tremolo is engaged, and some lack of 'bite'/'bark'. Some of these issues were resolved in the revamped version that Peavey has recently introduced however. Finally, a small detail which is a matter of taste: I like the rectangular Peavey name-badge on the old version much better than the round Peavey logo on the new version!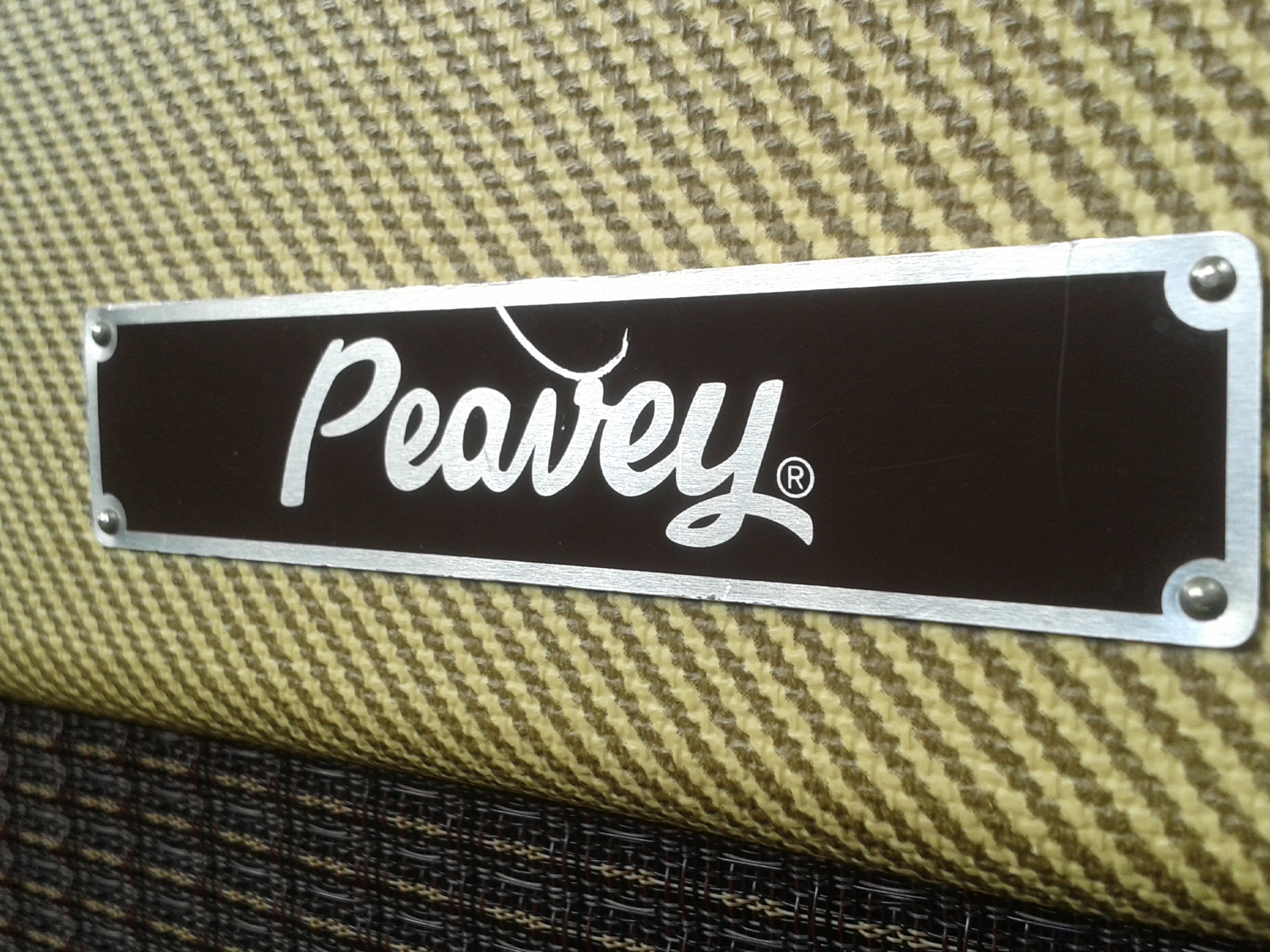 The rectangular name-badge on the older versions of the Delta Blues (slightly scratched in this case) was later on replaced with a round Peavey logo.